Today I've decided to run down a list of things that you will need to make a hand made mini album. With Christmas right around the corner now is the time to whip up a few handmade Christmas gifts.
Tools you will need (keep in mind you don't have to have these exact things, these are just what I normally use)
Score Board and scoring tool. Martha Stewarts is my favorite because it has measurements every 1/8 of an inch but you can use any score board or even your cutter. I do not like the scoring tool that comes with the board so I use a stamping up score tool.
Bone folder. If you don't have a bone folder you can use anything flat to make your folds crisp. The cap of a glue stick or even a butter knife works just fine.
Paper Cutter. I use the Fiskers cutter where the cutting bed measures 6 1/4. I love it except I find that it doesn't actually cut where the wire is. It's slightly off but having the 6 1/4 cutting bed makes up for that flaw. You can use any paper cutter you are comfortable with.
Glue - I use score tape to make my pages and atg gun to attach the patterned paper to the pages of the album. If you don't have access to score tape you can use wet glue or red line tape. I just love the score tape's ease of tearing and the super strong hold.
ATG- Adhesive transfer Gun. There are several brands. I use the pink Scotch brand that I purches for 1/2 of at MIchaels. I get my refills online by the case to save money.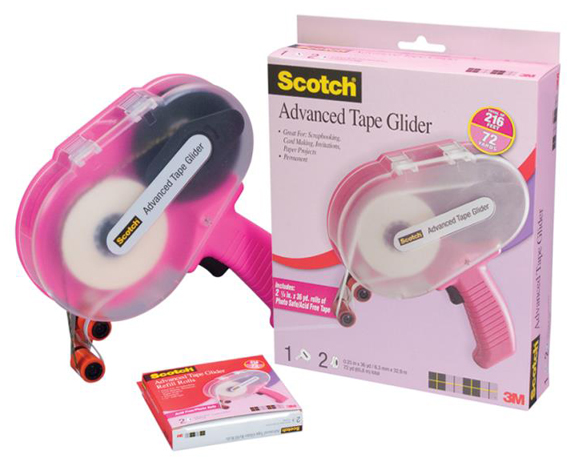 Card stock - I prefer to use Michaels brand or Paper Accents brand Card stock as it's not too thin and not to thick. I love Stamping up card stock but the amount that I use for an album makes the album more expensive to make. You can get the Michaels brand card stock on sale for 3 packs for $10. That's 150 sheets!
Patterned paper - Now I like to use a collection when making my albums so all pages coordinate. I'm not so nifty at finding mixed papers that look good together. I love die cuts with a view and my most FAVORITE paper company is Simple Stories. This way each page coordinates through out the album.
You can use any weight of patterned paper.
Distressing ink - I like to use Tim Holtz distress ink on the edges of my patterned paper before I attach to the base pages in the album. Of course you do not have to do this step or even use Tim Holtz any inks will do.
Chipboard - I use medium weight chipboard that I purchase on-line at Walmart.com. You can even attach 2 pieces of cereal boxes to make your covers.
Tyveck- This is a strong envelope that you can get at any supply company. Often I use recycled envelopes I collect from work. If you can't get ahold of Tyveck you can make your binding with out it or even use duct tape. I just use it to make sure that my album covers and spine last longer than if I just used card stock alone.
Embellishments - I typically buy the Embellishments that match the paper collection that I'm using. I even cut things out using my cricut and scrap pieces of the paper .
When I make an album I first make my pages then my covers/spine. Then I'll attach my pp to the pages and make my tags & page inserts by using the scrap pp from covering my pages. This way I can maximize my paper. I can often get 2 mini albums out of 1 pad of pp paper.
I'll be working on a series of posts and video's on my YouTube Channel to help those who are new to mini albums create their very own albums.